Buy wooden jigsaw puzzle online
På Unidragon säljer vi olika typer av träpussel du kan leka med på din fritid. Vårt unika träpussel är av hög kvalitet och det kommer med en vacker konstdesign som kan avnjutas på platser som receptionsrum, soffbord, kontorspausrum, väntrum och många andra platser.
Vi har olika träpussel för vuxna och barn och det är ett spel som ökar din IQ. Unidragon träpussel kan även fungera som en snygg rumsdekoration när du limmar och hänger upp det efter att du har löst pusslet. Det är ett ganska intressant spel att spela med tanke på tankenivån du upplever när du spelar det.
Varje bit av Unidragon träpussel är laserskuren, unikt och konstgjort på olika sätt. Detta gör den förbryllande tiden mer rolig och njutbar. Våra unika pussel är gjorda av kvalitetsplywood, och det finns i olika unika former och levande färger.
Spela Unidragon träpussel för att förbättra ditt minne, problemlösningsförmåga, visuell-spatiala förmåga, humör och för att sänka din stressnivå. Med våra träpussel kan vi hjälpa till att främja ögon- och handkoordination och det är ett av de bästa pusselspelen på marknaden.
På Unidragon har vi olika typer av träpussel och de finns alla i olika konstverk. Vi säljer olika varianter av pusselspelet som kan spelas av vuxna och barn och vi säljer till bästa pris.
Dessutom kan du gå igenom vår katalog för att se alla våra produkter. Du kommer säkerligen att hitta mycket mer saker som kommer att fånga dig. Hos Unidragon är våra ledord utsökthet och bekvämlighet. Vi säkerställer att våra kunder inte får något annat än det bästa i att beskydda oss.
KÖP DITT TRÄPUZSEL NU!
Unidragon säljer de bästa träpusslen. Alla våra produkter är inget mindre än kvalitet och vi finns här för att göra din lediga tid eller fritid värd besväret.
Så, nedlåtande oss idag. Gör din fritid rolig. Beställ dina pussel online nu!
GLUING SYSTEM,
FOR THOSE WHO LIKE TO DECORATE THEIR HOME!
Now you can easily turn your puzzle into a piece of interior decor for the home, office, or just about anywhere.
Satsen innehåller:
A cardboard base for turning the puzzle over.
Special stickers for attaching the base to the table.
Adhesive labels for holding the puzzle pieces together (3 sheets).
Adhesive patches for attaching the puzzle to the desired surface.
Instruktioner.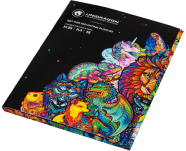 The fixing system is universal for all puzzles and sizes.
One set alone will allow you to hang 6 Small puzzles, 3 Medium puzzles, or 3 King Size puzzles.
€24.99
Köp det nu!